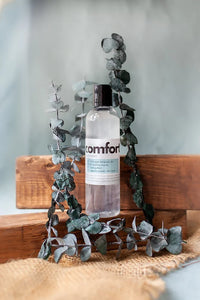 Infused Equestrian
Infused Equestrian Comfort
Regular price
$15.75
$0.00
Unit price
per
Comfort. A Liniment (4 oz)
comfort. A Liniment - A natural and soothing gel for your horse's tired legs. Try it! Ditch the harsh chemicals with weird names. No gloves are needed to put this on, neither! Know what you're putting on your horse. Our liniment will aid recovery. Made with 100% pure therapeutic essential oils. Your horse will love the feeling and smell of purity! You may even like it so much for your horse that you use it on your aches and muscles too (which is fine to do)!
comfort. A Liniment is created to help relieve muscle spasms and tension. The aloe vera gel base cools while the peppermint and spearmint essential oils encourage circulation to decrease inflammation in muscles. This gel is a must for your pre or post ride routine.

When to use comfort. A Liniment?
• Before a ride if your horse is more cold backed or stiff
• Post ride to prevent stiffness and sore muscles
• Areas that your horse is sore, uncomfortable or holds tension
• On yourself for any sore or tense areas...yep, this is safe for you too!
Contents; 
Aloe Vera
Tea Tree
Ginger
Peppermint
Spearmint
100% Natural & Organic | No Parabens | No Sulfates | No Toxins | Non-GMO 
---
Share this Product
---