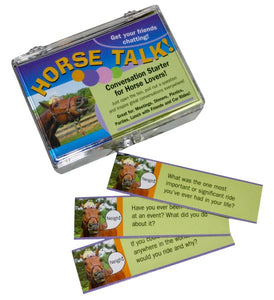 Horse Hollow Press
Horse Talk Conversation Starter
Regular price
$19.95
$0.00
Unit price
per
This is a pack of 140 conversation-starting cards. 
Each card is 3 1/2" x 1" and contains a horse-related question that will get any group of horsey introverts chatting like there's no tomorrow. Pull out a card, read the question and watch everyone engage!
No sense in sitting in silence when you can use this chat pack to get any horse person talking! Loads of fun for both adults and kids! Great for parties, picnics, just about any place that you would like to become the liveliest event ever!
Sample questions:
1. What was the most thrilling horse event you ever saw?
2. What is a horse show first-place memory that will last your lifetime?
3. What is your scariest horse moment?
4. If you could ride any horse in the world, who would you ride and why?
5. Describe the rankest horse you've ever ridden.
And many more questions!
Listen to what retailers say:
"Love, love, love your products, they are amazing!" Kristen, Horse Lovers Outlet, MO
"You're the best at customer service!" Helen and Glyn, The Tack Shop, SC.
---
Share this Product
---