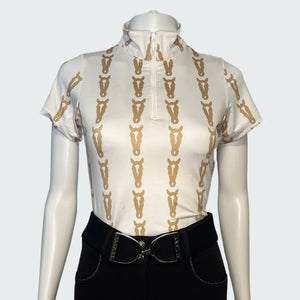 Deinhardt Designs
Deinhardt Designs Prints with Purpose Short Sleeved Training Shirt - Deinhardt Designs Foundation
Regular price
$75.00
$0.00
Unit price
per
In the heart of our brand beats a commitment not only to exceptional fashion but to the greater good. Introducing our "Prints with a Purpose" tier, a collection that resonates with depth, meaning, and a genuine desire for positive change. With each print, we embark on a journey to uplift, support, and make a tangible difference in the equine community and beyond.
The "Prints with a Purpose" tier is more than just a collection – it's a beacon of hope, a tribute to compassion, and a testament to the power of collaboration. Each print is carefully crafted to tell a story, reflecting our dedication to causes that align with our core values. A portion of the proceeds from every sale within this tier is devoted to charitable organizations, transforming your purchase into a catalyst for change.
By choosing the "Prints with a Purpose" tier, you not only grace yourself with a piece of wearable art but become part of a movement that stands for positive change. Your purchase extends beyond fashion – it becomes an embodiment of your commitment to making the world a better place, one shirt at a time.
---
Share this Product
---